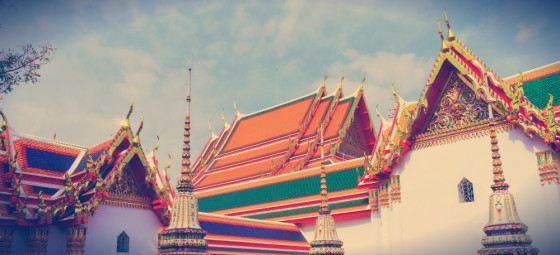 The icing of the cake for a year packed with travel was definitely my trip to Thailand during Christmas holiday season.
This was my second trip to Thailand, as I had been there during a Southeast Asia trip a few years ago, however, I promised myself that this time it'd be different; on one hand, because I was only concentrating on one country rather than having to work out my way through three different nations, with different languages, cultures and currencies. On the other hand I'd be traveling on my own and with a limited budget… OK, that last part tends to be the norm lately.
Last November, when I booked my tickets to Bangkok through Momondo, I didn't have the faintest idea of what I wanted to do or how I wanted to organize my trip to Thailand. I had lots of homework to do, but I wasn't sure of the actual route until a couple of days before the start of my journey.
So I decided to plan everything without actually planing anything at all. I decided the route, but booked most things like transportation and accommodation on arrival.
I left enough loose ends to allow myself some room for manoeuvre, but I knew already what I wanted to see.
The actual route ended up being a bit confusing when you look at it on a map, but to me, it made perfect sense, Bangkok – Ayutthaya – Krabi – Chiang Mai – Sukhothai – Bangkok again, all in 19 days.
During my almost 3 weeks in Siam I visited temples, markets and ruins, ate millions of calories worth of street food and rode bicycles, motorbikes, tuk-tuks, metros, sky trains, airplanes, boats and buses. Apart from enjoying my fare dose of frantic urban madness in Bangkok, I managed to also find time to relax in turquoise water beaches and do some jungle trekking.
The final result was everything I expected and more. I can't get enough of Thailand.
Truth is, with a country as diverse, it was a really tough job having to choose only 10 top moments.
But here they are, my top 10 Thailand moments:
Seeing Bangkok from a Sky Bar
Bangkok's new district sprawls east from the Old Town. This area is strewn with shopping centers the size of cities, highways and elevated train lines that seem to compete in height as they twirl around the sparkly steel and glass towers piercing the horizon.
Many of the skyscrapers that have mushroomed all over Silom, Lumphini and and Siam house impressive world class hotels. Most of them boast überchic bars and restaurant on their top-floor terraces called Sky Bars.
From the Sky Bars one can sip a martini while enjoying amazing views over the city night lights.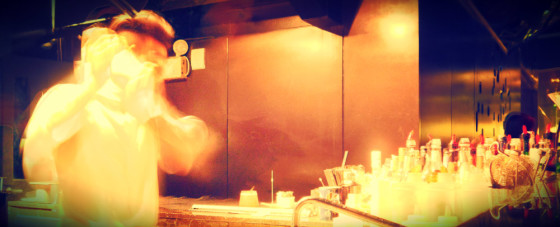 There are quite a few options when it comes to Bangkok sky bars, I chose Park Society at the So Bangkok Sofitel, mainly because it was the closest one to the area where I was staying, nearby Lumphini Park in a smart part of town.
The views from the Park Society Sky Bar are breathtaking. It has two panoramic terraces where you have views over Lumphini Park and the financial distrit north of it, with its tall skyscrapers lighting up the sky.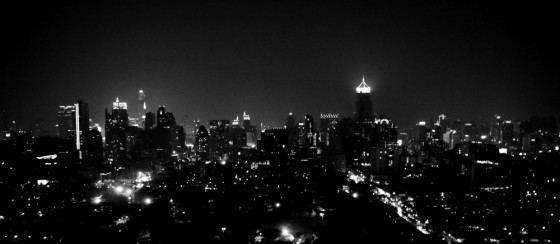 Visiting Thailand's 'Angkor Wats'
One of Thailand's defining features in undoubtedly related to the spirituality and the omnipresence of religion in Thai day-to-day life. Although I consider myself an atheist/agnostic, I have to admit that I find Buddhism to be truly fascinating.
And though the whole country is packed with impressive temples, some of the most evocative are little more than stone remnants, whose previous forms and functions can barely be distinguished today.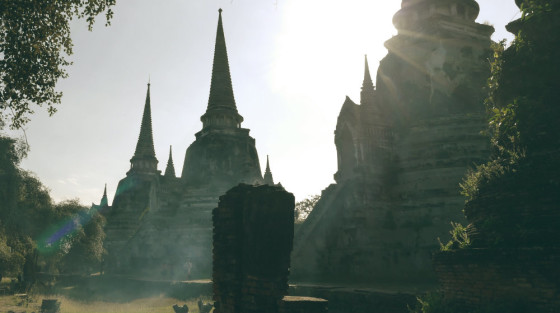 Among the most important temple ruins in Thailand, probably the most accessible ones are within the Ayutthaya Historical Park.
Ayutthaya was the capital of the largest and most important of Thai Kingdoms. It is located some 70 kilometers north from Bangkok. Its central area, once the most important political, economical and religious hub in the country, is located in an island surrounded by channels.
It was turned to rubble after several Burmese invations in the 18th Century.
There are several temples in central Ayutthaya, however, the more remarkable ones are Wat Phra Si Sanphet, the largest and most important temple in the old capital and Wat Mahathat, with the famous Buddha head(presumably chopped off by Burmese invaders) surrounded by the roots of a huge tree.
Basking in the most perfect sunset on Ko Tupac
I got to Ao Nang around midday, after having spent a couple of days in Krabi Town, exploring the region's inland.
The plan was to visit some of the islands off the Andaman Sea coast and while at it, get a chance to use my GoPro camera.
Upon arrival, I discovered that not a lot of tours leave after 9:00 am.
So my only choice was going on the so called "7 Islands Sunset Tour", which, as its name implies, would take me around seven different islands before having a barbecue and watching the sunset on Ko Tupac. At 1200 Baht, tt wasn't the cheapest option around, but since it included dinner and I didn't really have many other options, I agreed.
The tour turned out to be a total hit. Not only did I get to see some of the most beautiful islands in Krabi and meet some very interesting travelers, but I also got to enjoy the most amazing sunset ever.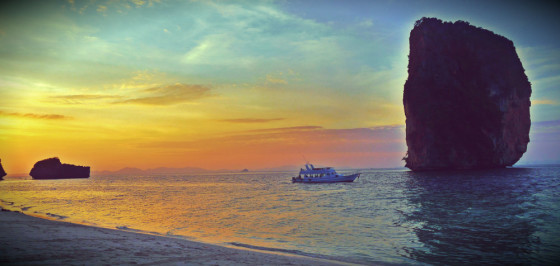 Going up to the Tiger Cave Temple
Wat Tham Sua or Tiger Cave Temple is one of the most sacred places in Krabi Province. It is located in a montainous area 8 kilometers from Krabi Town.
It is actually not a single temple, but a complex of buildings erected in various places that include (yes, you guessed it!) the interior of a cave and the top of a mountain.
The nether part of themple is home to a troop of monkeys, that are not only cute, but also expert food thieves.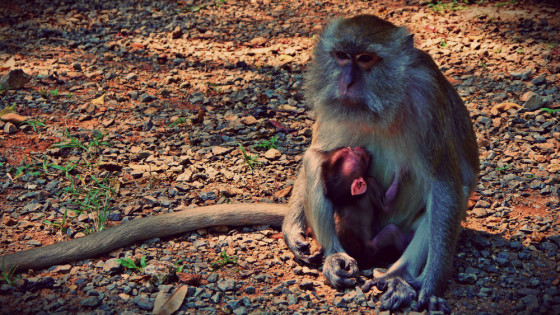 But the highlight of Tiger Cave Temple is a temple located at the top of the mountain, 300 meters up.
The only way to reach this temple is by climbing 1237 steps to the top.
Yes, no typo there, 1237 steps, or the equivalent of a 70-story building.
From the top you get an amazing panoramic view over Krabi Province, including breathtaking views of the region's tipical mountains, known as karsts.
Slow-rafting near Chiang Mai
The area around Chiang Mai is known by its exuberant nature. Lush mountains covered in tropical greenery and inhabited by several kinds of animals and human groups.
One of the most popular day-tours you can take in the region include some trekking, an elephant ride and a visit to a mountain village, mine also included a ride on a bamboo raft.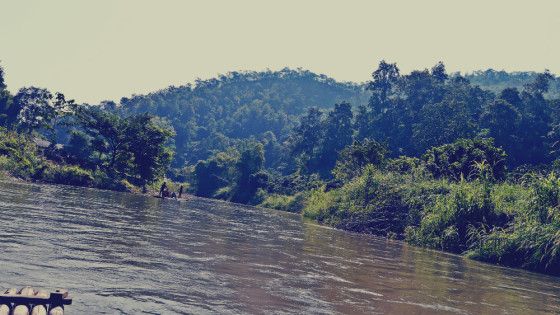 The raft was a very simple, traditional one. It was basically made of bamboo reeds kept together by rope.
Living free in Sukhothai
Ayutthaya is not the only historical city that I visited during my trip. I also had the chance to visit two ancient cities that, much like Ayutthaya, are in ruins today, namely Sukhothai Historical Park and Si Satchanalai Historical Park.
The first is home to the ruins of the old capital of the Sukhothai Kingdom, one of the most powerful and imortant Thai Kingdoms from the 13th century and until the 15th century, when it was defeited and asimilated within Ayutthaya. One of the features that differentiate it from Ayutthaya is the fact the Buddha images in Sukhothai were not destroyed.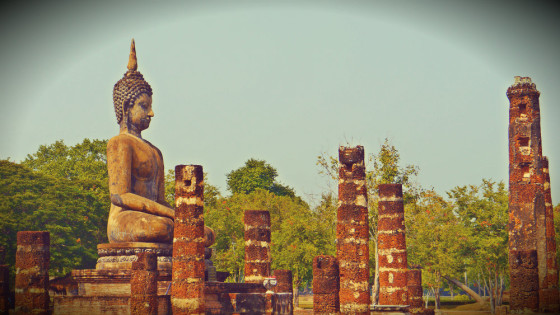 Some 50 kilometers north of Sukhothai, lies the town of Si Satchanalai, which also has a historical park packed with interesting Buddhist Temples.
The complex in Si Satchanalai is somewhat better preserved than the one in Sukhothai and it doesn't get nearly as many visitors, so the visit is much more calm and pleasant.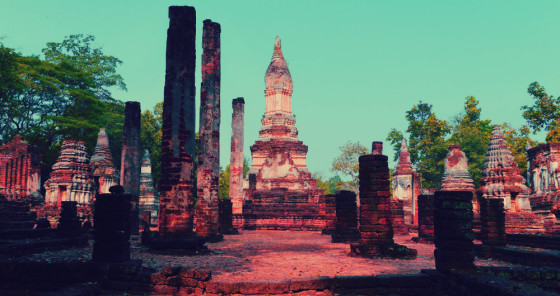 In order to travel between the two historical parks, I rented a little scooter from my guest house in Sukhothai New Town. I have to confess that got lost twice and I had to stop for directions and gas a few times, but the freedom I felt while riding my motorbike through the countryside roads made it all worth it.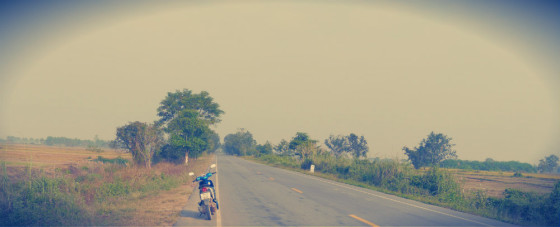 Contemplating the Temple of the Reclining Buddha
It is one of the must-see attractions in Bangkok, no question about it. Wat Pho or Temple of the Reclining Buddha is officially called Wat Phra Chettuphon Wimon Mangkhlaram Ratchaworamahawihan and it is one of the most sacred and atmospheric corners in the whole city.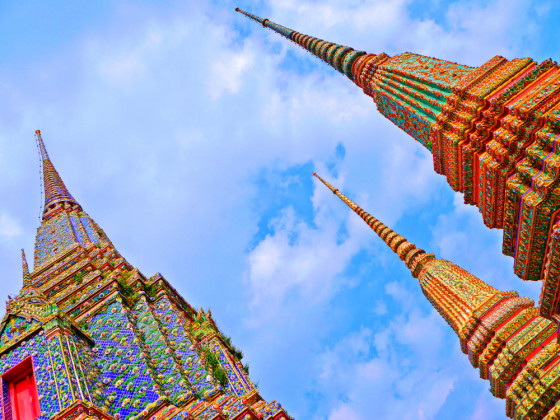 The temple is located right next to the river and the Royal Palace, in the heart of the monumental district of the Thai capital. The temple is actually a complex of buildings that includes the largest monastery in the country. It has a total area of 80,000 square feet.
However, its main attraction is undoubtedly the image of the Reclining Buddha, a 49-meters long sculpture that is also one of the largest of its kind in all of Thailand.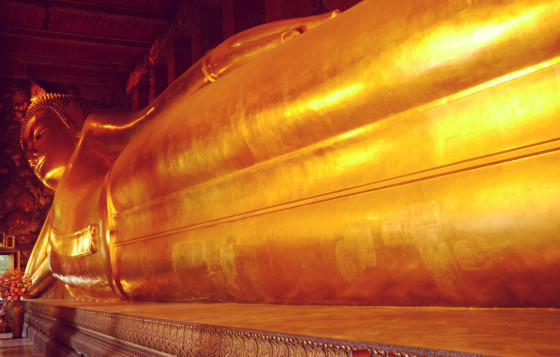 Discovering Thailand's street food
The fact that I love to eat is hardly a secret to anyone. So what happens when you mix one of the richest, most fascinating cuisines in the world with one of the strongest street food traditions and absurdly low prices?
You get a Luis Cicerone that won't stop eating.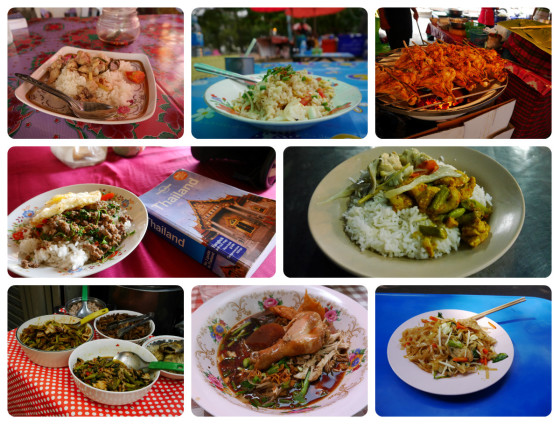 Snorkeling with my GoPro in Krabi
Other than incredible sunsets and an enviable tan, Krabi left me with some of the most fun moments of my journey. During the 7 Islands Tour and a day-trip to Ko Hong, I could finally use my GoPro camera for the first time. I got to make some amazing underwater videos and lots of stunning pictures.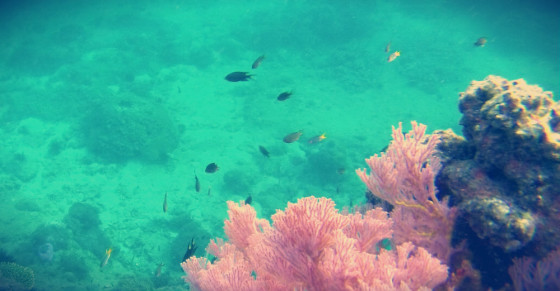 Enjoying Ayutthaya's Culture Festival
It was a surprise, a wonderful surprise.
My visit to Ayutthaya happened to be during the same week of the Culture Festival, including performances with music and dance and a huge food fair around the Historical Park.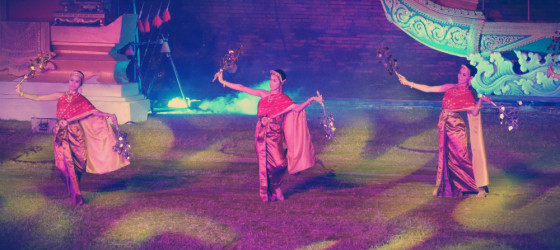 But the icing on the cake was a monumental play that took place amongst the ruins. Hundreds of actors depicted the rise and fall of the city with music, pirouettes, fireworks and elephants.
The whole thing was in Thai, but it was a lot of fun.