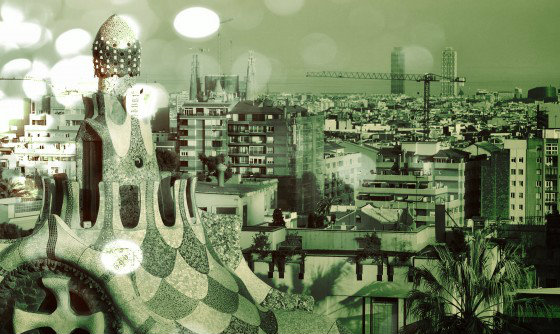 Barcelona is a city with hundreds of things to do. There's impresive architecture, beautiful parks, lots of shopping streets full of stores that can satisfy both bargain hunters and high end fashionistas and the charm that you find in the Old Gothic Quarter is hard to find anywhere else in Europe.
But if there is a component that makes Barcelona a fantastic city to visit is its climate. The Catalan capital gets very few raindrops throughout the year, but on those rare occasions when it rains, it can pour for hours.
So when those gray clouds loom around Tibidabo mountain, you can brace yourselves, because rain is surely coming.
On rainy days, it's like Barcelona stops being a city, everything just freezes, people dissapear from the streets and spend their day watching sitcoms at home with popcorn and a blanket.
However, when rain comes back to Spain, and the city is soaking wet, you can get a glimpse of another Barcelona, a shier, more quiet and damp Barcelona.
I am of the opinion that cities become a more interesting place when it rains.
These are the times when I just take out my camera and try to capture that ephimeral grace and the ghost town feel of Barcelona when it rains. It is also the perfect time to see Barcelona without the otherwise ubiquitous tourists hordes.
However, I do realize that when you are visiting a city, the last thing you want is to catch pneumonia or ruin your perm, so I created a somewhat eclectic list of things to do in Barcelona when it rains.
Churros con chocolate
Where: Granja Xador – Argenteria 61, Born. Metro Jaume I.
When: In the morning.
What: An all time classic in Barcelona. Granja Xador is a traditional breakfast joint with antique furniture and Art Nouveau decor. It is located in the heart of one of the most charming neighborhoods in Barcelona and it's the perfect place to enjoy a coffee, a snack or early morning churros with chocolate.
How much: A breakfast at Xador usually does not exceed 5 euros per person.
All things Picasso
Where: Museu Picasso – Montcada 15-23, Born. Metro Jaume I.
When: During the day .
What: If it's still pouring when you're done having breakfast, do yourself a favor, put a bag over your head and head to what is probably the best museum in Barcelona. If the life work of Pablo Picasso is not enough to float your boat, the five 14th-century Gothic buildings that contain it, will do the trick for sure.
How much : Admission to the permanent collection is 11 euros per adult.
Hipster Art and culture
Where: Center for Contemporary Culture of Barcelona ( CCCB ) – Montalegre 5, Raval . Metro: Universitat / Sant Antoni.
When: During the day.
What: CCCB is one of the most impressive contemporary culture and arts center in Europe. More than a museum, this versatile venue is a showcase of different expressions and modern artistic disciplines. Their photojournalism exhibitions are especially recommended.
much: It depends on exhibition, between 4 and 10 €.
Hey big spender!
Where: Shopping centers around the city.
When: All day.
What: Shopping does not have to stop because it's raining on Passeig de Gràcia. Although often impersonal and bland, the malls in Barcelona are good spend to spend a rainy day without getting soaked. In Barcelona there are several shopping centers to suit every style and pocket. The fashionistas can enjoy the luxury shops in Pedralbes Centre, La Illa Diagonal and Las Arenas, while Inditex (Zara, Pull&Bear, Bershka…) is king in the popular Glories and Diagonal Mar. Another good alternative that mixes shopping, entertainment, and views is Maremàgnum , five minutes from Rambla.
How much: Depends on your credit card limit.
Will someone please think of the children?
Where: Aquarium Barcelona – Moll d' Espanya s/n. Metro: Drassanes/Barceloneta .
When: During the day .
What: A very good option if you are traveling with children and do not know what to do if it rains in Barcelona , is to go to the Aquarium. It is one of the largest of its kind in Europe and although it is a bit expensive, it's a reasonable choice to spend a couple of hours surrounded by water without actually getting wet.
much: 18 €.
All that jazz
Where: JazzMan – Roger de Flor 238. Metro: Verdaguer .
When: During the evening.
What: One of the oldest jazz clubs in Barcelona. Opened in 1979, it is a nice place to sip a martini on a rainy night. Who cares if it rains when you're in the company of a velvety voiced diva?
How much: It depends on what you drink.