Spain is known for many things, including its festive celebrations during the holiday season. Among these traditions are the delightful and bustling Christmas Markets that pop up in various cities throughout the country. In this article, we will introduce you to the top five Christmas Markets in Spain, each with its own special characteristics that contribute to the festive atmosphere and joyful spirit of the season.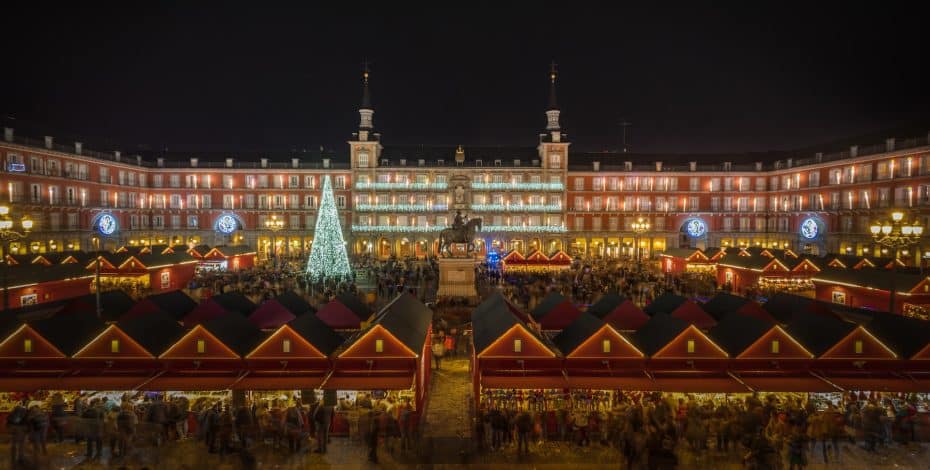 In Spain, Xmas markets have their own distinct characteristics. Unlike many other countries where a snowy atmosphere is common during this festive season, most Spanish regions do not experience a White Christmas. However, the holiday spirit remains strong as the markets display colorful lights, ornaments, and decorations that fill the air with festivity. Traditional food and crafts add to the charm of these markets in Spain, making them stand out from typical European Christmas markets.
---
1. Fira de Santa Llúcia, Barcelona
Pla de la Seu, s/n, 08002 Barcelona
La Fira de Santa Llúcia, also known as Mercadillo de Santa Lucía, is a famous market held in Barcelona during the Christmas season. It takes place close to the stunning Barcelona Cathedral. This traditional event has been happening since 1786 and is an essential part of the city's Christmas celebrations.
The atmosphere at Fira de Santa Llúcia is festive and cheerful, with people coming together to enjoy food, drinks, and shopping. At this market, you will find delicious local dishes like churros with hot chocolate and traditional Catalan recipes. People also enjoy homemade mulled wine and hot cava, famous local drinks. The market is known for its beautiful handmade decorations and crafts, such as nativity scenes, glass ornaments, and wooden figurines, including the famous Tió de Nadal. Shopping for these items is an excellent way for people to take home a piece of Barcelona's Christmas charm.
---
2. Mercado de Navidad de Plaza Mayor, Madrid
Pl. Mayor, 28012 Madrid
The Mercado de Navidad de Plaza Mayor is a famous Christmas market located in Madrid's central square, Plaza Mayor. It is considered one of the most iconic Christmas markets in Spain.
At this bustling market, traditional Spanish food and drink can be found, such as churros con chocolate, which are fried dough pastries served with hot chocolate and warm mulled wine called vino caliente. Apart from delicious treats, visitors will also find beautiful handmade crafts and ornaments, including nativity scenes and Xmas tree decorations created by local artisans to add a special touch to their holiday celebrations.
---
3. Feria del Belén, Seville
Av. de la Constitución, Sevilla
Feria del Belén takes place in Seville, a city known for its well-preserved cultural traditions. This renowned event is linked to Christmas celebrations and showcases the famous Spanish nativity scenes known as "Belenes." Traditional food found at the festival includes turron, a tasty almond-based confectionery, and polvorones, delicious crumbly cookies. One popular local drink enjoyed during this occasion is anise liquor. The event also features handmade crafts, such as intricately designed ceramic items and beautiful wood carvings of nativity figures.
---
4. Basque Christmas Market, Bilbao
Calle Bailén, Bilbao
The Basque Christmas Market in Bilbao is a festive event held on Calle Bailén, known for the gathering of skilled artisans from across the Basque Country. Dating back many years, this market holds great importance in celebrating the region's culture and traditions. While attending, you will find delicious traditional food such as talos – corn tortillas filled with txistorra sausage – and pintxos, small snacks made with bread and various toppings. Warm up with a cup of txakoli, a local white wine, or sidra, a Basque cider. Explore the market to find beautiful handmade ornaments including Belén figures for nativity scenes and locally crafted espadrilles. These items represent the artistic spirit of the Basque people and are perfect souvenirs from this special event.
---
5. Mercadillo Navideño de Jávea
Jávea
The Mercadillo Navideño de Jávea is a Christmas market located in the coastal town of Jávea, Alicante, Spain. Surrounded by the beautiful Montgó Natural Park, it boasts a strong history and plays an important role in the region's festive celebrations. Traditional food and drink at this market include turrón, a sweet almond nougat, and Mistela, a sweet wine. Visitors will also discover local traditional ornaments like handmade ceramics and intricate glassware.
---